Southwest Washington Real Estate Market Update
Posted by Donna Roberts on Wednesday, November 8, 2023 at 12:15 PM
By Donna Roberts / November 8, 2023
Comment
**Understanding the Shifts in Residential Real Estate: A Detailed Look at Recent Market Performance in Southwest Washington**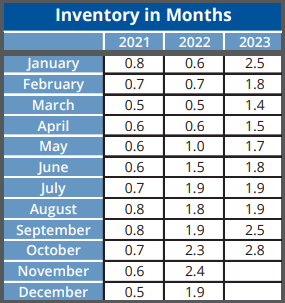 The real estate market is in constant flux, and staying informed about the latest trends is crucial for buyers, sellers, and investors alike. Our analysis of recent residential real estate data provides valuable insights into this dynamic market. Here's what you need to know.
**Fresh on the Market: A Dip in New Listings**
In an intriguing turn of events, the influx of new residential listings has seen a slight decline. The numbers fell by 5.5% to 601 new listings in October 2023, down from 636 in the same month last year, showing a cooling trend. Additionally, this represents a 4.8% decrease from the 631 homes listed in September 2023. This slowdown in new listings could indicate a tighter market for potential buyers.
**Navigating Through Pending Sales**
The path to homeownership appears to be encountering some resistance, as pending sales have notably decreased. The figures show a 9.8% decrease in pending sales compared to October 2022, and a 2.7% drop from September 2023. With 433 pending sales, this downturn suggests buyers may be taking a step back to reassess the market.
**A Closer Look at Closed Sales**
When it comes to closed sales, the numbers have notably declined. There was a significant 17.0% reduction from the 536 properties sold in October 2022 and a 6.5% drop from the 476 sales concluded in September 2023. This reduction to 445 closed sales can reflect a range of factors, including buyer hesitation and changes in market conditions.
**Inventory and Market Duration: An Expanding Landscape**
Inventory levels have shown an increase, reaching a 2.8-month supply in October. This rise, coupled with the extension of the total market time to 41 days, may be signaling a shift towards a buyer's market, where buyers have more options and more negotiation power.
**Year-to-Date Market Snapshot**
Taking a broader look at the year-to-date figures, the contrasts become even more stark. New listings have plunged by 24.5%, while pending sales are down by 23.4%, and closed sales have diminished by a significant 29.0% compared to the same period in 2022. This trend underlines a significant shift in the market's trajectory over the past year.
**Price Trends: Stability Amidst Change**
Despite these shifts, price points in the market have remained relatively stable. The average sale price has seen a marginal decrease of just 0.3% from $585,800 to $583,900. In a reassuring sign for homeowners, the median sale price has maintained its ground, steadfast at $525,000. This stability in sale prices, despite the other fluctuations, might indicate a balanced market that can withstand various economic pressures.
**SEO Tags:**
- #RealEstateTrends
- #HousingMarketUpdate
- #NewListings
- #PendingSales
- #ClosedSales
- #RealEstateInventory
- #MarketTime
- #HomeSalePrices
- #ResidentialRealEstate
**Conclusion:**
The residential real estate landscape is showing signs of moderation, with fewer listings and sales but stable pricing. This could mean opportunities for strategic buyers and sellers in the market. Keeping a close eye on these trends is key to making informed real estate decisions. Stay updated with us for more insights into the ever-evolving real estate market.