Recent Trends in Real Estate: Key Insights
Posted by Donna Roberts on Friday, November 10, 2023 at 8:15 AM
By Donna Roberts / November 10, 2023
Comment
**Recent Trends in Real Estate: Key Insights**
1. **Mortgage Rates Dip**: The average 30-year mortgage rate has now fallen below 7.5%. Despite this decrease, home prices have risen in approximately 80% of metropolitan areas across the U.S., maintaining a competitive market.
2. **Jobs Report and Its Impact**: The October jobs data revealed a hiring slowdown, with only 150,000 new jobs added and a downward revision of previous months' figures. This weaker-than-expected job growth contributed to a drop in U.S. treasury yields, indirectly influencing mortgage rates.
3. **Price Growth Acceleration**: CoreLogic reports a continuous rise in home prices for the eighth consecutive month. September 2023 saw a 0.3% month-over-month increase, marking a 4.5% year-over-year growth. This trend, however, must be contextualized within the backdrop of last year's declining prices.
4. **Equity and Affordability**: Black Knight's data indicates a slight 0.4% month-over-month increase in home prices in September. This has brought mortgage-holder equity close to last year's record highs. However, the median home's monthly principal and interest payments now exceed $2,500, posing challenges for buyers.
5. **Loan Accessibility Tightens**: The Federal Reserve's October survey points to more stringent lending standards across various sectors, including mortgages, due to economic uncertainties and increased risk aversion.
6. **Regional Price Variations**: The National Association of Realtors (NAR) notes that 82% of metropolitan areas experienced price rises in the third quarter of 2023, with a median year-over-year increase of 2.2%. Some areas, like Fond du Lac, Wisconsin, saw nearly 19% growth.
7. **Inventory Dynamics**: Contrary to typical seasonal patterns, active housing inventory has been increasing this fall. While new listings are decreasing, the decline is slower than usual, and a decrease in sales volume is contributing to rising inventory levels. However, inventory is still 39% below October 2019 levels, with significant variations across different markets.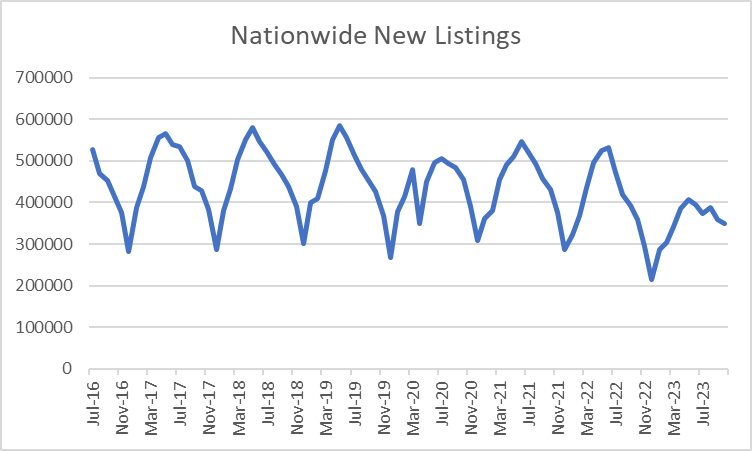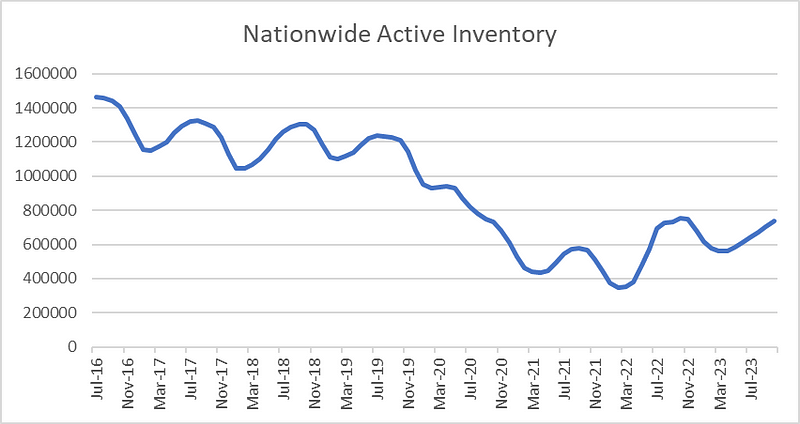 8. **Mortgage Market Shifts**: Recent mortgage rate reductions have been influenced by various factors, including the Fed's rate hike pause, job market slowdown, and global economic trends. Market analysts now anticipate potential rate cuts in 2024.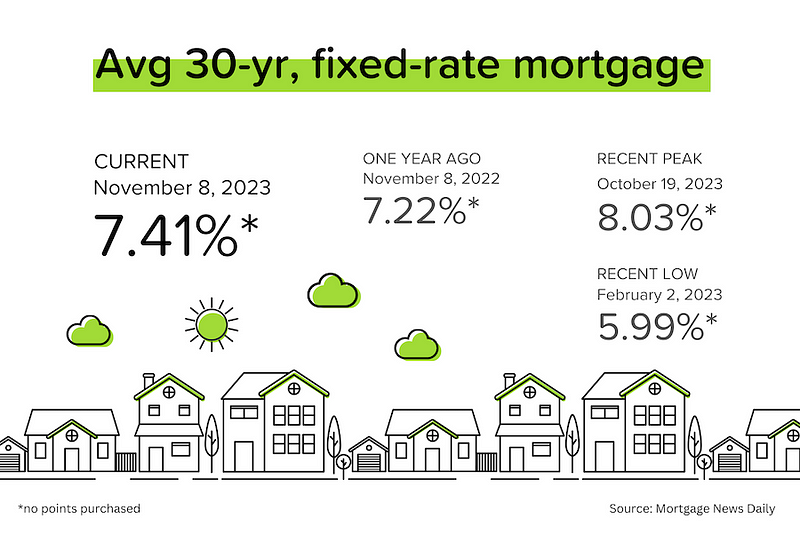 9. **Expert Opinions**: NAR's Chief Economist, Lawrence Yun, highlights the significant wealth accumulation by homeowners since 2019 but emphasizes the challenge of limited housing supply for potential buyers. CoreLogic's Chief Economist, Selma Hepp, notes the resilience of home price growth amidst rising borrowing costs, with certain markets showing exceptional strength.
For more insights or inquiries, feel free to reach out to us. We're here to assist with your real estate needs!