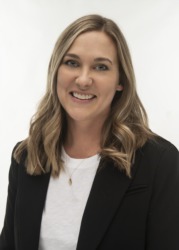 A Clark County native, Katie was born and raised in Vancouver giving her a deep knowledge and love for the area. After spending years teaching yoga, traveling, studying, and living in places like; India, South America, Australia, & San Francisco, Katie came to realize there really is no place like home and nowhere was better than the Pacific Northwest!
From her years of working in service, wellness, and education, she discovered her true passion of helping others find their best quality of life. Her Bachelor's degree in Spanish & Anthropology gives her an edge in understanding people, language, and the human connection.
When not working, you will frequently find her spending time with her husband & two children. As a family they enjoy hiking, camping, surfing, & exploring everything the PNW has to offer!